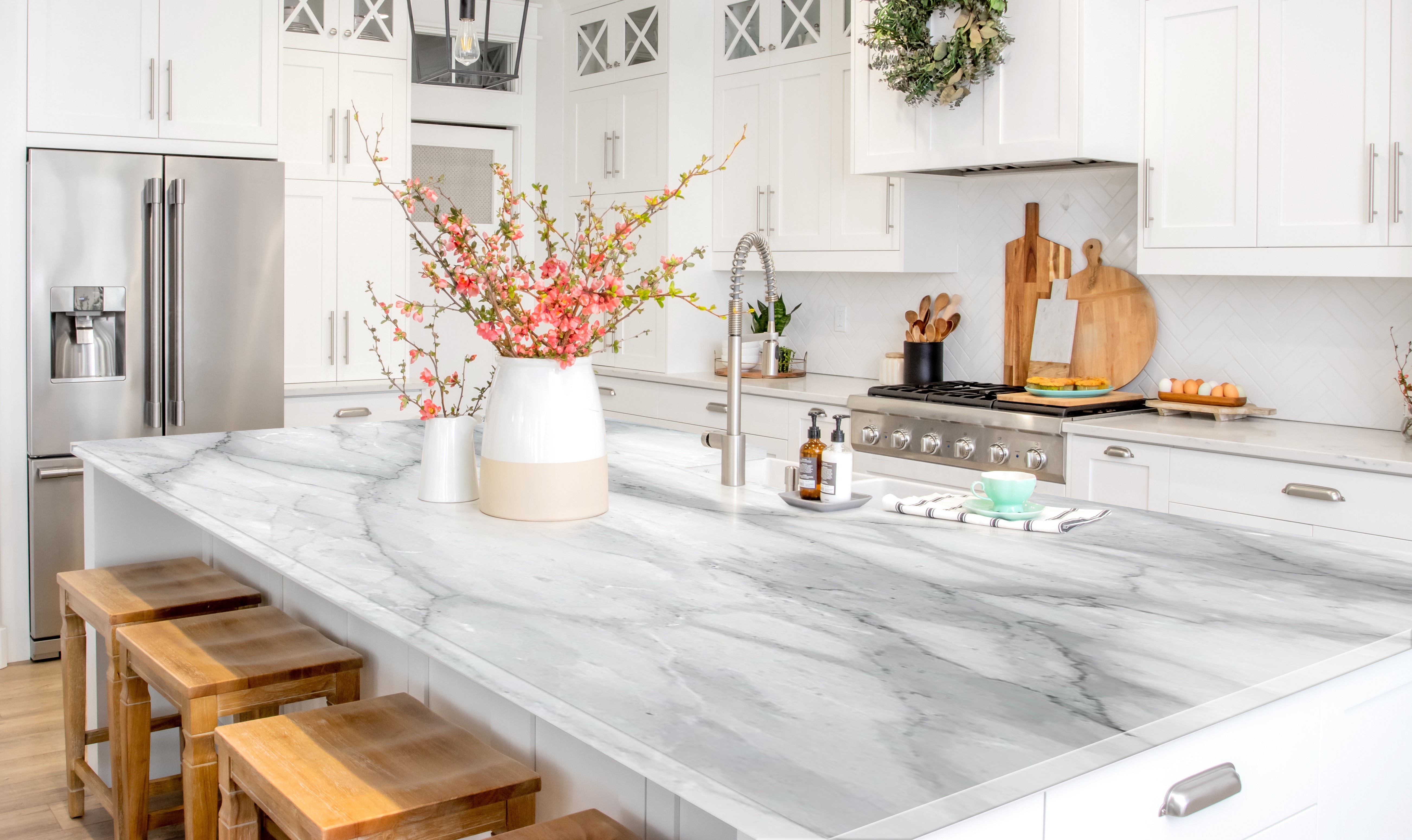 A Guide to Selecting Marble Countertops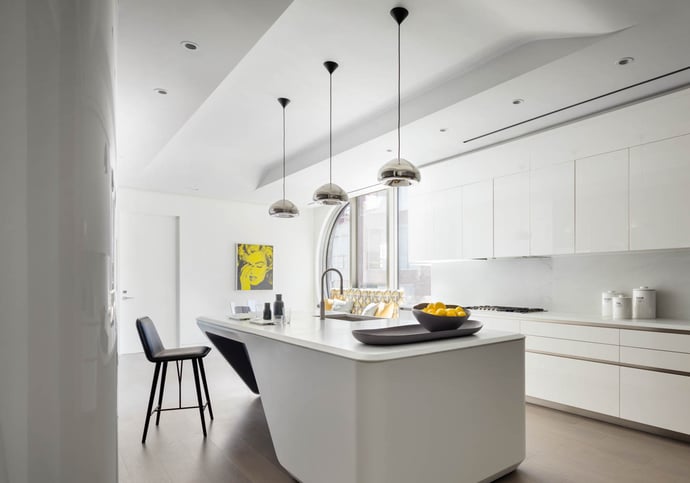 When it comes to selecting countertops, marble continues to be a top choice for homeowners. The natural and luxurious appearance of marble, in combination with marble's longevity and durability make the natural stone the perfect choice when finishing a kitchen or bathroom. Before making a commitment to marble, homeowners should know the characteristics of the stone, the different qualities and finishes and know whether the choices fit their lifestyle. Below is a quick guide to selecting marble countertops!
First- Is Marble the Right Material for You?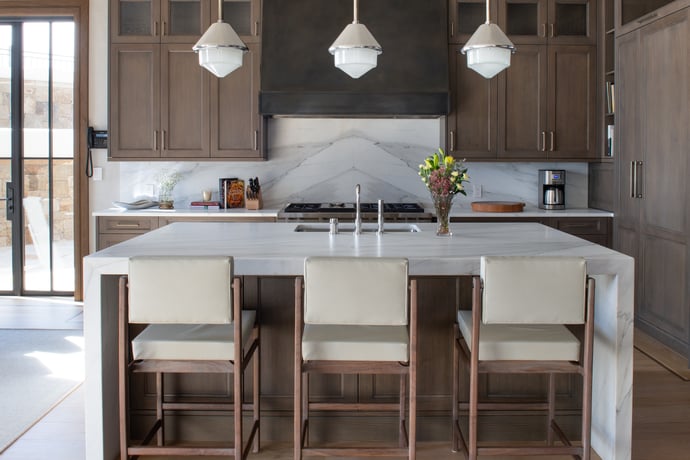 Marble is a metamorphosed Limestone that is composed of, generally, 99.5% pure calcium carbonate and 0.5% is a mix of other minerals. The variation of the mix of other materials results in its unique veining and natural impurities. Marble is created when these elements are heated and compressed under pressure.
The general assumption and concern of marble is its greater porosity compared to other materials. Marble is naturally a more porous stone, but when maintained regularly will last a lifetime. Regular sealing and maintenance are required to guarantee your marble countertops will last a lifetime, but if you are committed to the care- it is worth the investment!
At Colorado Stone Quarries, we utilize Soundstone technology that allows us to increase the mechanical strength and decrease porosity of marble. Our technology provides more confidence to homeowners in choosing our marble in high traffic areas such as kitchens or bathrooms.
Marble's Beauty lies in Inconsistencies and Imperfections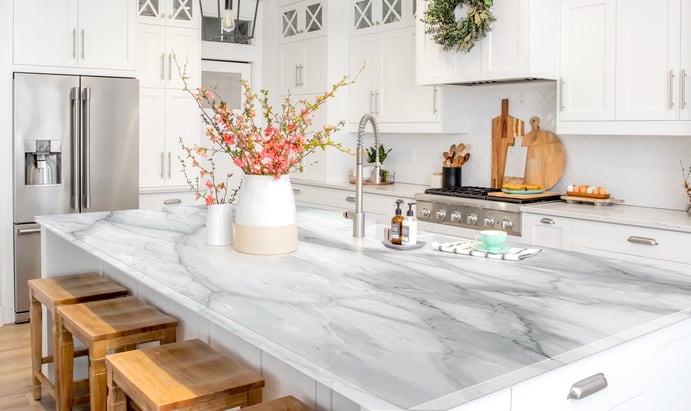 Marble is a natural stone that offers unique beauty and impurities in product. The veining and coloring are natural, which creates the pristine beauty of the stone. This natural beauty of the inconsistencies is subject to each customer's opinion. For those who appreciate the raw beauty of natural stone- marble countertops are the perfect choice.
Using a professional installer that knows how to appropriately cut and place the marble so the imperfections in the characteristics look as the homeowner envisions is key!
Variety of Finishes
Although the veining and actual characteristics of marble are not customizable, due to the nature of the stone, there are a variety of finishes customers can choose from when finishing countertops. Marble countertops can be polished, honed, brushed, sand-blasted and bush hammer- engineered stone cannot. A homeowner may prefer a polished finish, or may want to create a more natural look that ages even greater and unnoticeably with time.
Durability
The durability of marble lasts a lifetime. According to the Natural Stone Council, "It was the durability, endurance, and engineering flexibility of using natural stone building materials that allowed so many ancient landmarks to stand the test of time. The Great Pyramids of Egypt, Machu Picchu, and the Mayan city of Tikal are just a handful of examples." With proper care, marble products will age beautifully and last a lifetime.
Unlike manmade, engineered products such as Porcelain, Quartz, Nano products, Sinter Stone etc., marble can always be refinished if damaged. Manmade competitive products are more sensitive to heat, natural light and when damaged cannot be easily repaired- they must be replaced.
Caring for Your Marble
The type of stone, its finish, its location, and how it is maintained all need to be considered when determining how to protect the stone. Marble requires regular sealing to protect from staining agents and etching. It is recommended homeowners use specific types of cleaners and not others to avoid damage to marble.
For specific instructions on how to treat, clean and maintain marble, read our instructions here.
Choose Local!
While it has been long known that Italy produces the greatest marble- we have some of the most beautiful marble quarried and produced right here in the USA for a more friendly price than overseas!
Different Types of Marble
Calacatta
Calacatta Marble, specifically Calacatta Lincoln and Calacatta Golden, are marbles with a pure white background and well marked with veins. Calacatta Lincoln consists of beautiful grey veining in 45 degree or wavy. Calacatta Golden consists of beautifully, well marked golden veins.
Calacatta Marble is less subject to pressures and more consistent in characteristics.
Statuario
Statuario marble has a predominant white background showing little movement, sometimes absent of veining or movement. Statuario is perfect for an all-white kitchen!
Aspen Grey/Lincoln Silver
Aspen Grey and Lincoln Silver are both grey marbles consisting of dark to light/blueish grey characteristics. The difference between Aspen Grey and Lincoln Silver is the veining. Aspen Grey is usually darker with no veining and Lincoln Silver is lighter with "Calacatta type" movement.
For a deeper dive into Colorado Stone Quarries' 6 different types of marble, reference our quick guide.